…The design of the book combined the personal accounts with a wealth of photographs; to create an intimate glimpse of the fascinating story of individuals who uprooted themselves to improve their lives and those of their families.…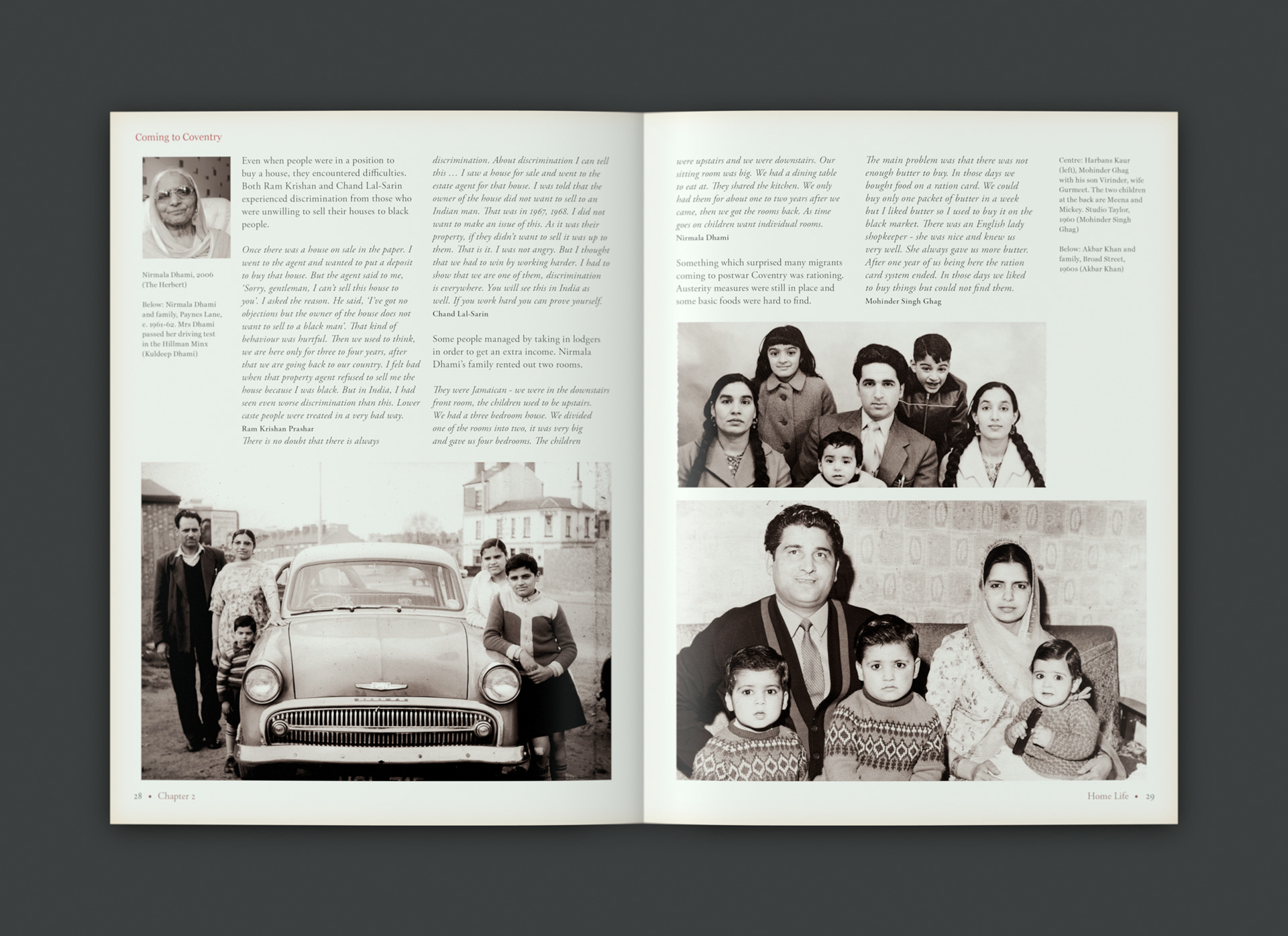 …'extensive experience and willingness to step in and work well beyond the call of duty was invaluable in helping to realise the book project'…

Background
'Coming to Coventry: Stories from the South Asian Pioneers' was a partnership project between the NHS Asian Mental Health Access Project (AMHAP) and The Herbert Art Gallery & Museum, funded by the Heritage Lottery Fund (HLF).
The project aim was to archive the challenges and successes of the pioneers arriving in Coventry;  who gradually lay the foundations for an established South Asian community. The deliverables included developing a book, exhibition, and website; with the collated archive available to the public and professional researchers. To streamline the aims, Juga worked with the partners across the project duration to provide: Effective brand strategy; guidance for the digital imaging of the interviewee memorabilia and; the book and exhibition design.
The design of the book combined the personal accounts with a wealth of photographs; to create an intimate glimpse of the fascinating story of individuals who uprooted themselves to improve their lives and those of their families. As part of the design process Juga provided: Guidance and assistance with the image selection; map illustration titled 'Origins of the Coventry South Asian Community' and production of the overlaid Ordnance Survey map; proposed and incorporated the interviewee portraits by Ania Bas and; managed the print production of the book.
Outcome
The book and exhibition opened a highly successful exhibition at The Herbert from May to June 2006 and a lavishly illustrated well-received book. The 60 interviews and over 600 personal photographs were transferred to the museum's archive.
The wider museums and heritage sector gave recognition to the project by: Held as an example of good practice by the HLF, the project's main funders; received regional and national coverage which led to an article by Chris Arnot, 'Lives Less Ordinary' for The Guardian Society supplement on June 7, 2006; praised in academic circles, notably the review in the journal Archives and the reception given to the book and the paper presented at the Oral History Society Conference; in 2008 it won the award for best large project in the Inspiration category of the West Midlands Renaissance awards.
An accompanying travelling exhibition was also designed by Juga and by 2008 had already visited a variety of appropriate community locations; meeting considerable interest and enthusiasm; with The Herbert Museum reporting at least 1,100 visitors engaged with the panels at an event on 6 May 2007.
Mick Carpenter from the University of Warwick conducted the end of project evaluation in 2008; where he completed in-depth interviews with project partners who collectively attested to the benefits of the design + imaging partnership and reported: 'Juga Singh's extensive experience and willingness to step in and work well beyond the call of duty was invaluable in helping to realise the book project.'