…100 accounts of pioneering families' that helped to shape the nation's rich history…

…The design ethos was to centre on the human story; orchestrate a collective harmony to the unique visual records and present a compelling celebratory layout.…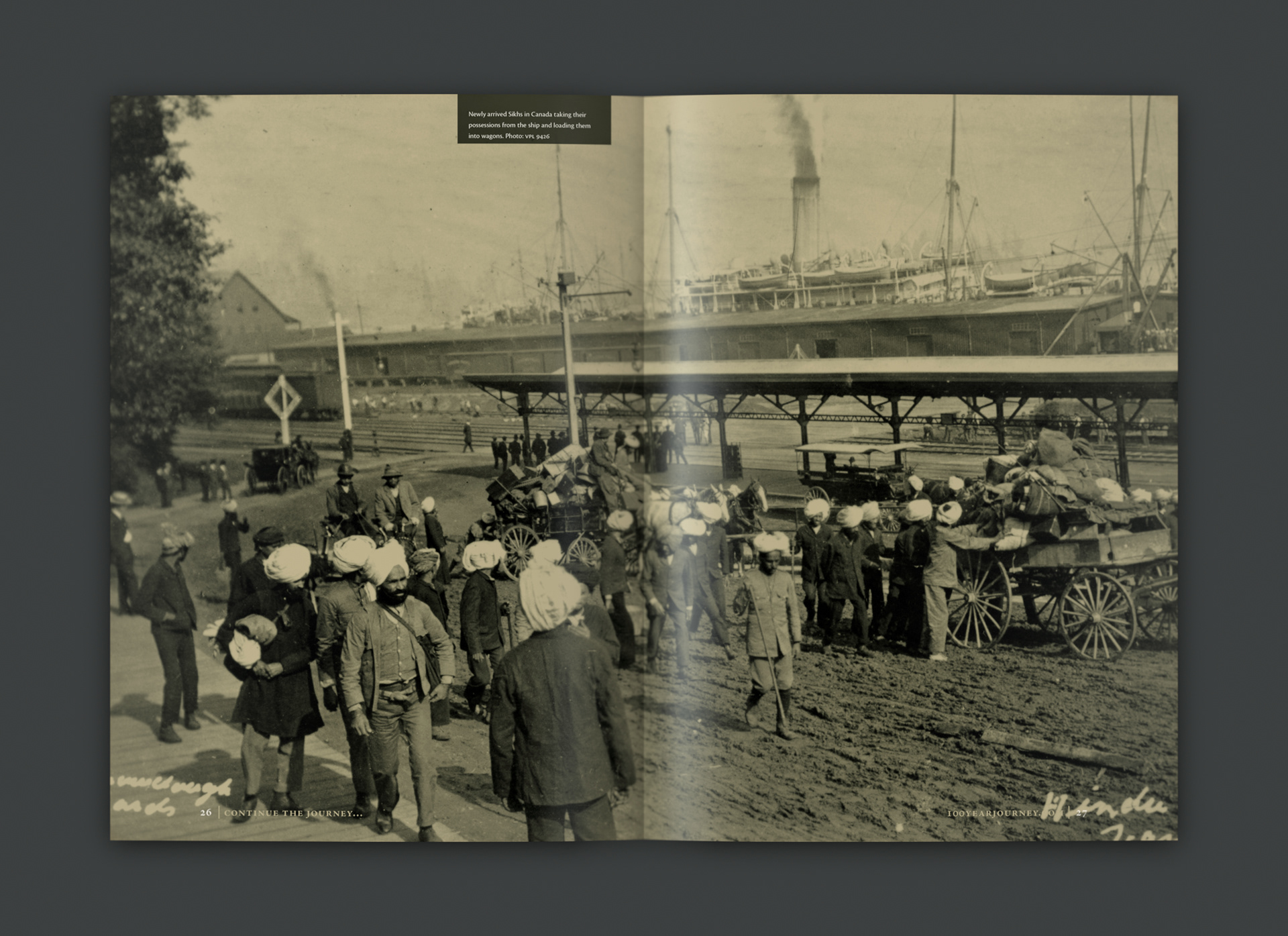 …"I write to thank you for the lovely book Hundred Year Journey…. The book is a valuable tribute to the pioneering spirit of early South Asian families who made Canada their home and went to contribute to Canadian history."…

Background
Mehfil Magazine was Canada's first premiere South Asian magazine; 1993 to 2010 a periodical that spoke to the Canadian South Asian community and a platform for cross cultural harmony and understanding.
In 2014 Juga Singh was invited to design a special commemorative publication marking the centenary of the Komagata Maru incident; a landmark event which became a catalyst for reforming Canada's discriminatory laws. The publication would feature 100 accounts of pioneering families' that helped to shape the nation's rich history.
The design ethos was to centre on the human story; orchestrate a collective harmony to the unique visual records and present a compelling celebratory layout. The written accounts were a mixture of both interviews and articles from the Mehfil Magazine Reflections Archive with additional newly collected accounts of Canada's early South Asian settlers. 
The accompanying images were a blend of previously commissioned editorial photography, imagery supplied by interviewees or archival photography; guidance was provided on appropriate digitizing of originals for the publication and assisted with the photo-editorial.
As a final addition to the design, Singh introduced pull quotes into the page layout; which were favourably received and continued to select the quotes for the publication.
Outcome
The 100 Year Journey, a 150-page book and community project was released on November 29, 2014 at a sold out black tie gala where 500 'movers & shakers' of the community gathered to be part of a project committed to preserving the stories of the South Asian pioneers that helped to build Canada. Among the attendees were British Columbia Premier Christy Clark who later commented 'these stories matter and these stories inspire' and Federal senior cabinet Minister Jason Kenney who applauded the efforts of this unique inaugural publication and event.
A special hardcover edition of the 100 Year Journey book was designed to be presented on 16 April 2015 by BC Premier Christy Clark at a state dinner held for Indian Prime Minister Narendra Modi. Prime Minister Modi wrote on 21 April 2015: 'I write to thank you for the lovely book Hundred Year Journey…. The book is a valuable tribute to the pioneering spirit of early South Asian families who made Canada their home and went to contribute to Canadian history. It is touching to read about their struggles, sacrifices and hard work, and their journeys to create opportunities for themselves while upholding their pride and dignity.'
In October 2015 the book was recognised at the 20th annual Governor General's History awards for excellence in teaching Canadian history and in September 2017 it was acknowledged in the Canadian Senate.